Little Caesars Arena Information
Located at 2645 Woodward Avenue, with a capacity of 19,515 for ice hockey and 20,491 for basketball, the Little Caesars Arena is part of the District Detroit, a 50-block wide area of parks, restaurants, bars and facilities, to which it is connected by a unique concourse with a glass roof.
With buildings including the box office for the arena, the offices of the Red Wings and housing retail outlets all connected beneath this unusual glass roof, forming an indoor concourse, the Little Caesars Arena design features a truly one-of-a-kind layout. This concourse remains open all year round, enabling it to be used as a venue even when no events are going on within the arena.
The arena was opened in September 2017, costing $862.9 million to build. The venue is also known by a variety of nicknames, including "The DoughJoe", "The Pizza Box", "The Pizzarena","The Pizza Palace", and "The Oven".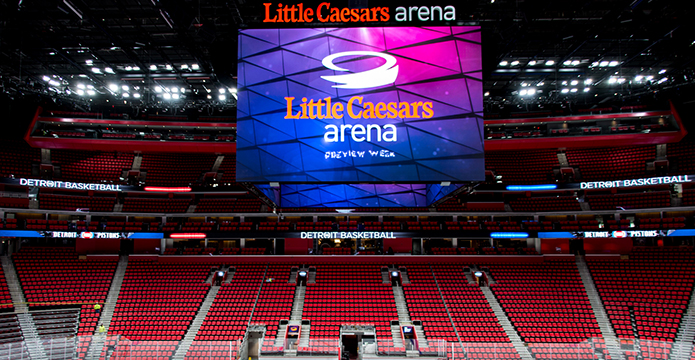 For parking information please see the parking page.
For ticket and ticket marketplace information please see the Little Caesars Arena tickets page.
To see the seating chart and find out about accessible seating, please see the Seating Chart page.